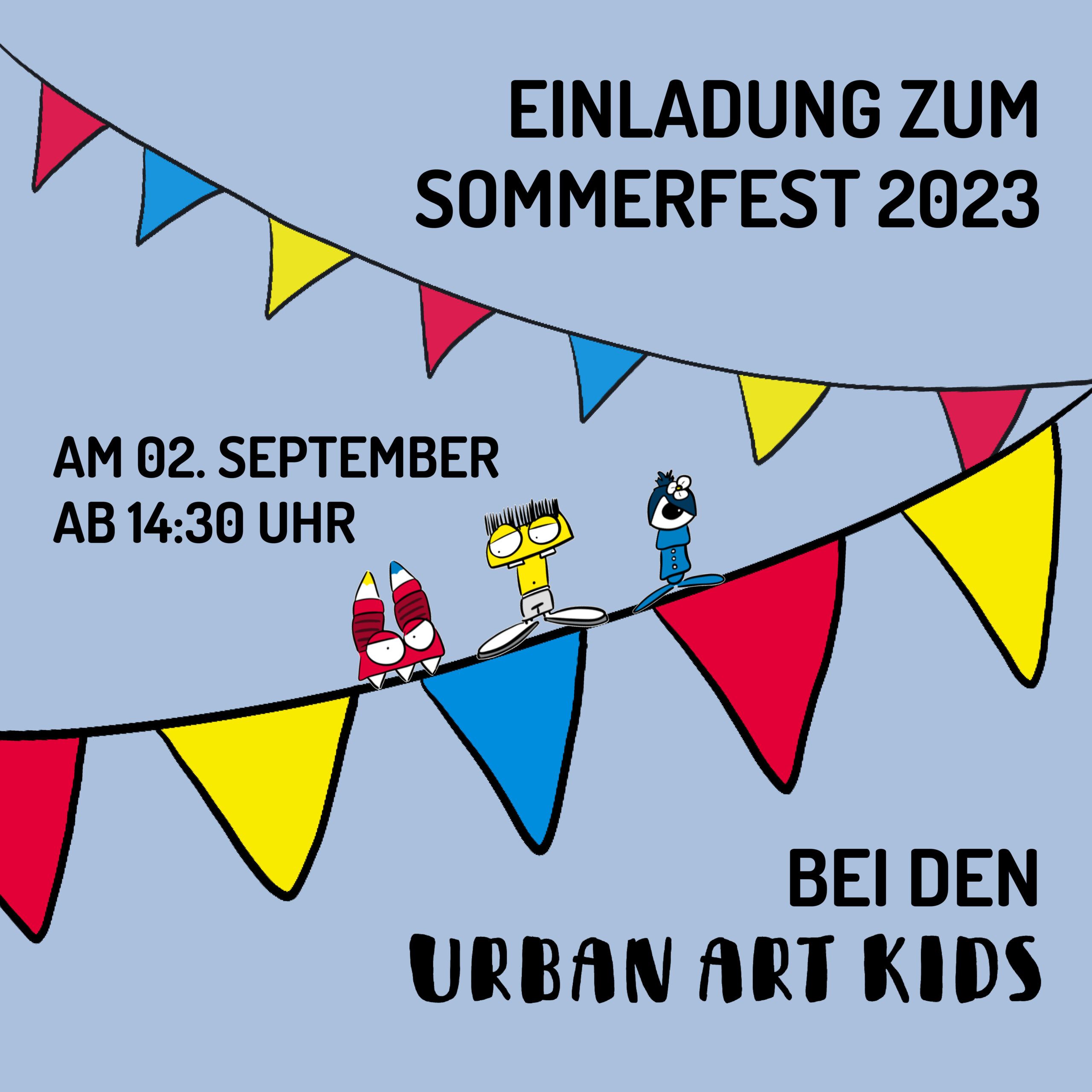 Summer Party 2023
We are pleased to invite you to the annual summer party at Urban Art Kids! On September 2nd, a day full of art, culture and inspiring encounters awaits you. It will be an unforgettable day not to be missed!
Highlights of the day:
Rehearsal manga course with Hai Huang Loo (from 15:00) : Immerse yourself in the fascinating world of manga and let Hai Huang Loo, a renowned mangaka, introduce you to the secrets of Japanese comic art. Whether you have already gained some experience or are just starting out, this course is sure to inspire you and take your creative skills to a new level.
Book presentation "The Grandhotel of Feelings" by Lidia Brankovic (from 4:00 p.m.) : Immerse yourself in a magical story full of emotions and adventure. Lidia Brankovic, the talented author of the English-language book "The Grandhotel of Feelings", will present her moving story exclusively at Urban Art Kids. Accompany the protagonists on their journey through the unique Grand Hotel, where feelings come alive and dreams come true.
Raffle in favor of the NGO Love without orders : Support a great cause and get the chance to win great prizes in our raffle! The proceeds will go to the NGO "Love without orders", which supports children in need all over the world. Every lot counts and contributes to changing lives.
Face painting by Facepainting_Vasty: For our youngest visitors we offer a special highlight – let Facepainting_Vasty transform you into enchanting fantasy creatures, superheroes or bright colors! Face painting will make your eyes shine and face happy.
In addition to these highlights, many other activities and surprises await you. There will be live music, street food and a colorful art exhibition showcasing the work of our talented students.
When? 2 September, from 2:30 p.m. to 5:30 p.m.
Where? Urban Art Kids, Sesenheimer Str. 7, 10627 Berlin
The summer party at Urban Art Kids promises an unforgettable opportunity to meet like-minded people, make new friends and develop your artistic skills. We look forward to spending this special day with you!
Please remember to register in advance, as the number of participants for the trial manga course is limited. Please send a short message to info@urbanartkids.com.
Let's celebrate summer together and discover the magic of art!
Your Urban Art Kids-Team
Altersempfehlung:

from 4 years