In our regular workshops (for children from 4-14 years) we illuminate the medium of art by educators and artists in all its facets. To this end, we offer varied courses on various topics: artistic techniques, art history as well as individual workshops by artists.
Creative design is intended to increase the conscious perception of art and promote cognitive abilities as well as children's personality and self-confidence.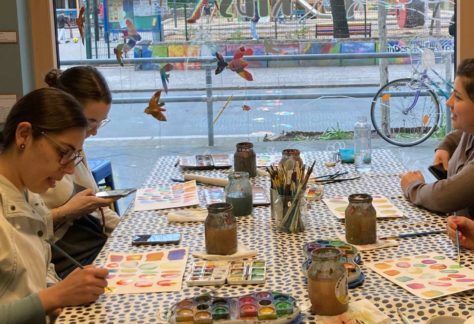 ---
Artists
How does an artist work? Adolescents should get to know our local & international artists personally and immerse themselves in their art world.
Art
What is Dadaism? Who was Andy Warhol? We offer exciting insights into the past and present of art history.
Techniques
Whether tape art, watercolor, digital design, ink painting, action painting, street art! We offer different courses on painting techniques.
Medium Art
Children should have an easy and playful introduction to art. But also advanced players have the opportunity to develop further.
Cognitive Skills
Children should live out their creativity and imagination at an early age. Attention and concentration are encouraged by the workshops.
Open Classes
Just do it! Let creativity run wild! This is our motto at the Open Classes. Parents are also welcome here.