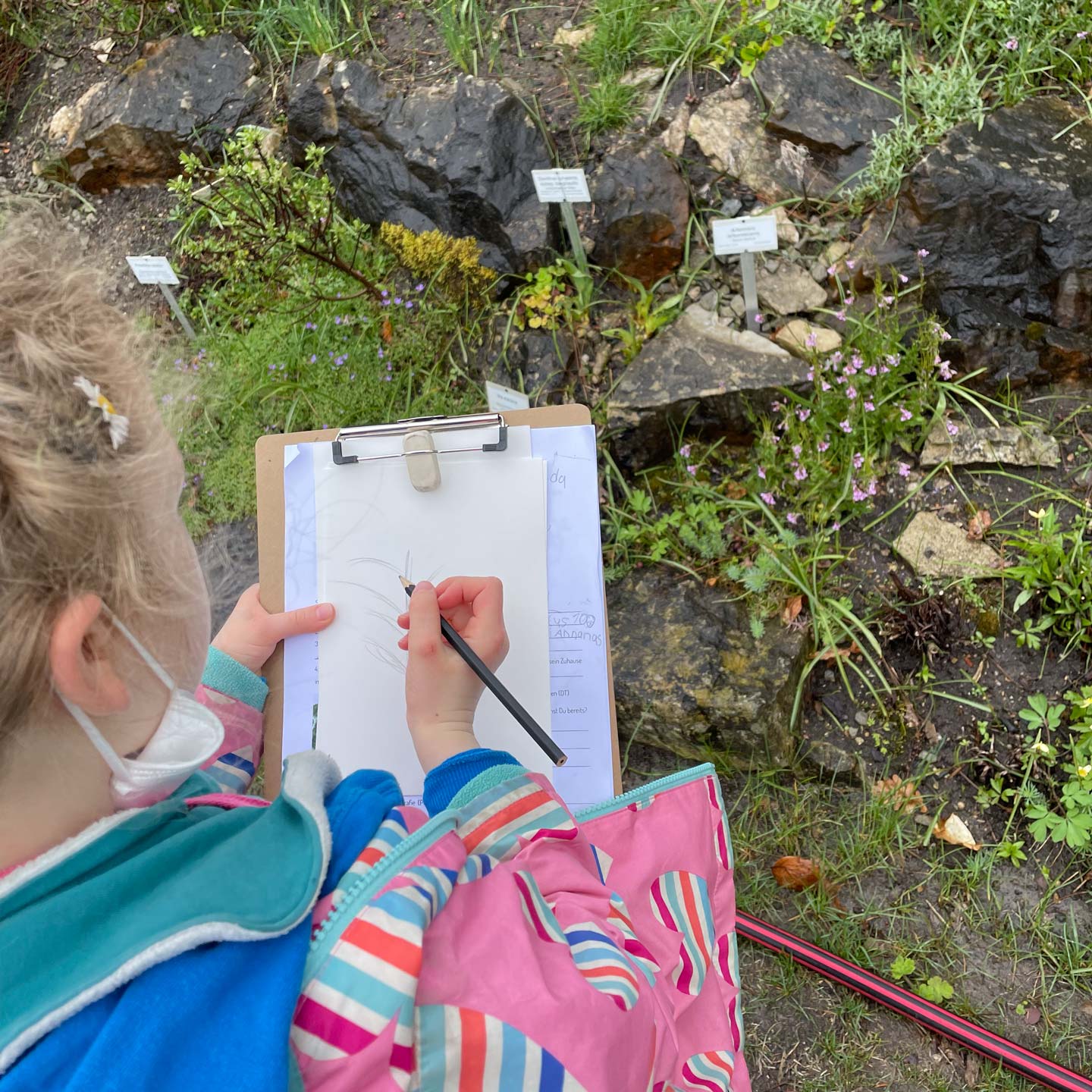 Easter Camp
The Easter Camp is all about spring & nature: we go on excursions to the surrounding parks and the botanical garden. We draw and puzzle, and we also make a detour to the playgrounds. Back in the gallery, exciting creative projects are carried out with the children.
Program:
11.04.2023 Printing workshop + watercolour painting (1st part)
We design our own print templates suitable for spring in order to create a sketchbook afterwards. In the afternoon we paint spring-like motifs with Lu and get to know different watercolor techniques.
12.04.2023 Excursion Botanical Garden + Sketching
On the second day we take a trip to the botanical garden. Here we will puzzle together and draw plants. In the afternoon, depending on the weather, we are out and about in the parks around the gallery and draw the surroundings in our new sketchbook.
13.04.2023 Workshop Marionette Building (1st part) + Watercolor painting (2nd part)
Together with our artist Helena we build our own puppets. For this purpose, we first model the head, hands and feet and tailor clothes for the figures. In the afternoon the 2nd part of the workshop watercolor painting takes place. Here we will carry out another creative project with watercolors.
14.03.2023 Workshop Marionette Building (2nd part) + conclusion
In the second part of the workshop "Building Marionettes" we paint the individual parts and put them together. The children can spend the afternoon painting, handicrafts or simply playing to end the week in the camp.
Time schedule:
9:30 am – 12:30 pm Workshop 1st topic
12:30 – 13:30 Lunch break
13:30 – 15:30 Workshop 2nd topic
Costs: 260 Euro incl. Lunch – 4 days!!!
Note:
The Easter Camp is a day camp (without overnight accommodation)

It can only be booked the whole week (Tuesday – Friday), the booking of single days is not possible.

Please bring a water bottle and a small snack for the morning break.

We reserve the right to make changes to the program.

For lunch we always provide a vegetarian alternative.

Please bring your BVG student ID card or two single-trip tickets with you for the excursions.
Altersempfehlung:

7-11 Jahre